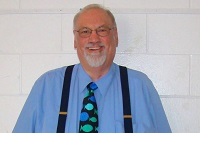 Ah Summertime! How much fun is Summertime where you can lighten up on your responsibilities and find all kinds of ways to have fun. Even with our faith and church responsibilities it is fun to take a break and worship God in nature or go to the church of St. Mattress. Summertime gives us the break from the busyness of life that is until school starts, which as I write this, starts next week.
And here at St. John we have taken advantage of our summertime experience but now it is time to gear up our ministries again and "Fall" back into our regular routines of caring for God's people as we were called be in our Baptisms.
And as you consider what role you want to play in our Fall ministries I ask everyone that is able, to join one of the three CPR Ministries (Technology, Safe Church, Small Group). Why? Because it is you, working with others and sharing faith with each other that will be the spark that excites the church to grow and expand the life and Ministry of St. John.
And when you are excited about your faith and the ministries that come from it, then you are more likely to tell others and invite them to a part of sharing the love of Jesus Christ.
You may remember when I was called by God to serve as your pastor, during the Q and A time, I told you that I would do my best to provide healing and inspiration and resources and resource people to help with the transformation of St. John United Church of Christ, but you would have to be involved to make it work. And with the Holy Spirit's help we can do all things through Christ who strengthens us. And I promise that we move forward with new ministry ideas I have yet other resources, including people, to help guide us along the way.
Some have complained that we are off to a slow start with CPR but Felix, our consultant says that is normal. But I have a hunch that these new ministries will take off this fall when you decide to become a part of them. You see, "It's Up To You!"
And even though it is still that wonderful summertime right now, I invite you to be in prayer about where God may be calling you to serve when Labor Day is over. And then let the Office know where God has led you and we will connect you with the right people so you can be a part of the future of St. John UCC.
Waiting to hear from you!
See You Sunday,
In Christ's Love and Service,
Pastor Ken