An Open Letter to our Confirmands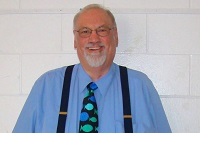 Dear Andrew, Bailee and Emily,
Can you believe it? Your Confirmation day is almost here! Right now you and your faithful mentors have worked hard on your testimonial papers, seeking to assimilate what you have learned into what you have come to believe, in your heart, about God, Jesus Christ and the Holy Spirit. It has been quite a journey from your Baptismal day to this moment when you will take over your vows to God for yourselves.
If you are a lot like I was on my confirmation day 49 years ago, you are still a bit overwhelmed and unsure about your relationship to God and God's people, the church. And if you are wondering why this is, remember that on June 4th we are celebrating your spiritual birthday, along with the Church's birthday, Pentecost. Your faith journey is just beginning and, as you will see, you still have much to learn and far to grow.
Ignore, if you will, the temptation to see your confirmation day as graduation and that once this day is past you have nothing else to do about your faith. In fact, I will encourage you to save your testimonial and each year, on Pentecost, get it out and read it again to remind you of the covenant you have made and how much your faith has grown from the year before.
I will warn you now, this keeping the faith will not be easy. There will be those who will ridicule you because you go to church and many peers, especially in college, will tempt you to give up the faith because it isn't cool or they will say to you that church is boring. And as you grow and get more on your own there will be many things to tempt you to be elsewhere on Sunday mornings besides worshiping God. Then there is the possibility that you could get hurt along the way. The church may be Divinely inspired but it's followers are human. Like the people we studied about in the Bible, Abraham and Sarah, David and Bathsheba, we all have trouble keeping the covenant and we all sin and fall short of the glory of God. So, along the way someone may hurt you by something they do or say (maybe even the pastor), and you have to practice that little thing that God taught us through the death of Jesus Christ, FORGIVENESS! Oh, and by the way, there may be time when you have hurt another and you will need to say "I'm sorry" as well. One more thing about these temptations to give up your faith, and that is when bad things happen to good people. I cannot assure you that along life's journey, because you believe in God, that you will never have problems. You will experience difficult times in your lives, in your relationships and in your work. There may be time that you feel that God does not care, or that maybe God is punishing you, when bad things happen. When you get sick or a loved one is ill or dies, you may feel like Jesus did on the cross, that God had abandoned him. Remember, how on the cross he said: "My God, My God, why have you forsaken me?" I say to you that when those times come, remember that God does not wish harm to you and like in the "Footprints" poem is when God often carries us, even if we do no remember. The trick, when you ae hurt or mad is to let God hold you a little closer. I believe that following Jesus is an every day decision. Each morning I make a conscience decision to follow Christ one more day. You may wish to do it this way as well. Remember, I will keep you in my prayers as you make this new journey.
Finally, as I told you at the beginning of class, if there is one thing that I want you to remember most from Confirmation is; that GOD LOVES YOU! God loves you so much that He sent his only Son, our Lord Jesus Christ to die for you and all the rest of us. That same love of God is in the church as well. I think I can speak for the St. John United Church of Christ when I say that they love you with all their hearts and will be willing to help you on this journey of faith. All you will need to do, is ask!
Personally, each confirmation class is dear to me and I feel I have grown close to you in your time and work together. I look forward, with pride to getting your class picture to hang with the others in my office so that I can remember you each day as I see your faces, reminding me of our journey together. As the days go by and our lives go in different directions, I will give thanks to God for you and ask God to watch over you.
As I close, remember to give a BIG THANK YOU TO YOUR MENTORS FOR ALL THEIR TIME AND WISDOM! LET THEM KNOW HOW MUCH YOU APPRECIATE THEM.
CONGRATULATIONS CONFIRMATION CLASS OF 2017, Emily, Bailee and Andrew. I look forward, with great joy, to hear your testimonials and to your confirmation, itself. THANK YOU FOR BEING SUCH A GREAT CLASS!
May God go with you and love you all your days.
See You Sunday,
In Christ's Love and Service,
Pastor Ken