62 Christmas Celebrations and Counting!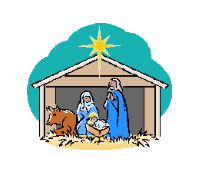 Can Christmas be upon us already? It seems that it was just a short time ago that I took down the decorations from last year. How it has changed from when I was a child. Then, Christmas had this magical quality that filled the house with good smells and wonderful gatherings of family and friends.
The house was beautifully decorated and I would lie under the Christmas tree looking up at the brightly colored lights and be amazed at the wonder of it all. Being the pastor's kid, there was all the church activities and services and like every other child I struggled to learn my lines for the annual program. Looking back on it now I realized that I have very little to do with the Christmas season happening. Mostly, I had to take a bath, dress nicely and show up.
Today, as a pastor, a husband, a brother, one uncle (not to mention the other relations), Christmas takes on a whole new meaning for me, WORK! It is my calling to help make Christmas memorable for others as it was done for me when I was little. BUT DO NOT FEEL SORRY FOR ME! ACTUALLY, I LIKE TODAY'S CHRISTMAS EVEN BETTER THAN WHEN I WAS A CHILD! What a joy it is to see other faces light up when you fix that special dish for the family dinner, or see a loved one open that special gift. To see the faces glowing in the candlelight on Christmas Eve, singing Silent Night is a special moment for me, for I have a great vantage point up in front of the congregation. And the reading of Luke 2, the decorations in the sanctuary, the carols filling the air still fills me with wonder as of long ago. Perhaps that is why we like Christmas so much, because it takes us back, for a short while, to our childhood perspectives of life. And, once again, experiencing the wonder of God coming to earth in that little baby, Jesus, that will bring hope for our weary world.
Yes, 62 Christmas celebrations and counting. Some have been more memorable than others and some have been memorable because it was the first Christmas without grandma or my parents. But each of them have shaped my understanding of what God really did for us by sending His Son to save us from our sins. And, what I have realized is that without God's gift, the rest of the Christmas preparations really do not matter. God does it all for us at Christmas and all God asks of us is to show up. Show up at the manger to worship the Christ child. The rest of the celebration is my response to God's act of love.
I believe that all of this is true for churches as well. This is St. John's 156th Christmas as a congregation. I am sure that first Christmas was small in the scope of things, but big in heart as this new church in a new land had much to celebrate, mainly that they made it! Since then there have been many memorable moments of Sunday School plays, inspired messages of hope and the music and lights that create a sense of peace in a busy heart. I am also sure that there were Christmases that were slim for the congregation, perhaps celebrating without a pastor, or having lost a pillar of the church during the Holy-days! Both of these kinds of experiences help us to realize what God is still doing for us in that manger in Bethlehem, that we are not alone in our struggle to live. The Message, that in our dark night of our lives, a new light will show brightly the place where Jesus lay. It does not mean our troubles will end or all the world will just be happy. But it does mean that God will take this journey with us, both the good and not-so-good. And when the day comes that our Christmas celebrations on earth come to an end, Jesus will take us home to even better Good News than we have here on earth, a celebration of life that has no end.As we celebrate the 156th Christmas in this congregation, once again God invites us to "come to Bethlehem and see this thing that has taken place which the Lord has made known to us" (Luke 2:15). God invites us to be amazed and be filled with wonder at the sight of the Son of God and then to ponder it in our hearts, like Jesus' mother, Mary! All we need to do is show up and God will bless us with new life.
So, whether your Christmas this year is full of joy or troubled, I invite to come to be a part of the Advent and Christmas services for "we are bringing Good News of great joy which shall be for all the people, to you, is born this day, in the city of David, a Savior who is Christ the Lord" (Luke 2:10).And I assure you, whether you are a child with few responsibilities for the holidays or an adult with all the work to do, your heart will glow like the candles on Christmas Eve.
Merry Christmas, St. John United Church of Christ for the 156th time. Norma and I ask God to bless you and yours this Holy Season and may you find joy in the gift of Jesus Christ in your life.
See You Sunday!
In Christ's Love and Service,
Ken