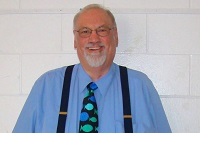 Dear Andrew, Bailee and Emily,
Can you believe it? Your Confirmation day is almost here! Right now you and your faithful mentors have worked hard on your testimonial papers, seeking to assimilate what you have learned into what you have come to believe, in your heart, about God, Jesus Christ and the Holy Spirit. It has been quite a journey from your Baptismal day to this moment when you will take over your vows to God for yourselves.
If you are a lot like I was on my confirmation day 49 years ago, you are still a bit overwhelmed and unsure about your relationship to God and God's people, the church. And if you are wondering why this is, remember that on June 4th we are celebrating your spiritual birthday, along with the Church's birthday, Pentecost. Your faith journey is just beginning and, as you will see, you still have much to learn and far to grow.
What does this phrase mean to you?  Click "Continue Reading" and share your thoughts.